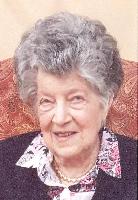 Gloria Phillips Bidwell
Gloria "Mumzie" Phillips Bidwell, of Cape Coral, FL, and formerly of East Hartford, CT, died Sunday, March 5, 2017. During her 95 years, she achieved and experienced things that many can only aspire to.
Gloria was born to the late Edward and Katherine Phillips October 25, 1921 in Willimantic, CT. She is predeceased by Glenn Bidwell, her husband and love of 69 years. A woman ahead of her time, Gloria graduated from Windham High School in 1940, received her undergraduate degree from the University of Connecticut in 1951 and later her Ph.D. in psychology from Columbia University in 1967. Gloria taught at the University of Connecticut from 1967 through 1974, after which she went into private practice until she retired in the late 1990s.
Gloria had a sharp mind and a dry wit, honed her great passion for reading - and solving the Word Jumbo in the newspaper each morning over a cup of coffee. Gloria and Glenn were avid boaters and their passion for travel took them throughout the US and around the world - always constant companions. Gloria was always elegant and fashionable, even in her 90s, and was an excellent cook and baker. Her chocolate cake and strawberry-rhubarb pie will be sorely missed.
Gloria is survived by her sons Dr. Glenn Bidwell Jr. and his wife Cathi of Franklin, VA; Russell Bidwell and his wife Carol Youell of Glastonbury, CT and James Bidwell and his wife Donna Rand of Glastonbury, CT. She is also survived by six grandchildren and five great-grandchildren whom she loved and who loved her dearly. Gloria is predeceased by her three sisters Grace, Gertrude and Marjorie. The family wishes to express their appreciation to her wonderful caregiver, Betty Rojas, who Gloria affectionately referred to as the daughter she never had.
There will be a private burial service in Glastonbury, CT at a later date. The family requests that any donations be made to Hope Hospice, 9470 HealthPark Circle, Fort Myers, FL 33908. For online condolences please visit www.mulryanfh.com.