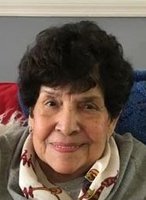 Maria D. Ulbinsky
Maria D. Ulbinsky (Marie), beloved Mother, Grandmother, Sister, and Aunt passed away peacefully on July 20th, 2017 surrounded by her loving family. Maria is predeceased by her parents, Jose and Guadalupe Cantu as well as her husband of 43 years, Raymond J. Ulbinsky.
Maria was born in Mercedes, Texas the second born of seven children. She grew up close to her family and working in their restaurant called the Mer-Tex Café, where she met her future husband Ray. At the time, she was in college at Pan Am University, while he was in Air Force Officer Cadet School. Maria and Ray were married in 1957. For twenty-two years, Marie was the consummate Officer's wife, taking care of their four daughters and homes through several moves around the US and France. After Ray retired from the Air Force, the family settled in Glastonbury, CT.
After Ray retired in 1993, Marie and Ray enjoyed time together as grandparents, spending time with family and friends, and traveling. Sadly, Ray passed away in 2000. Marie spent the remaining years enjoying her family, travel and her November trips to Aruba. She will be remembered fondly for her jovial spirit, her generosity and her loving heart. She will be sorely missed.
Marie is survived by her daughters Lita Rarey, Renee Ulbinsky, Laura Kretzmer and Alexia Ulbinsky. She is also survived by the following adored family members: Son In Law, Paul Kretzmer. Grandchildren: Mitchell Rarey, Jacob Rarey, Jonathan Rarey, Alex Rarey, Carl Giordano, Elaina Giordano, Rae Kretzmer, Paul Kretzmer and Haven Kretzmer. Great-Grandchildren: Skylar Rarey, Landon Rarey, Riley Rarey, Hudson Rarey and Micah Rarey. She is also survived by six sisters and brothers, and many, many extended family members.
Calling hours will be Friday July 28th, 2017 at Mulryan Funeral Home at 725 Hebron Avenue in Glastonbury, between the hours of 5-7 pm. There will be a Church Service on Saturday July 29th, 2017 at St. Dunstan's Church at 1345 Manchester Rd in Glastonbury at 10am. The burial will follow at Greens Cemetery at 77 Hubbard St in Glastonbury. Flowers may be sent or donations made in her honor to the St. Jude's Children's Research Hospital. For online condolences please visit mulryanfh.com.