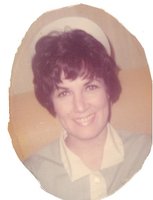 Mary Ellen Corde- Dionne
Mary Ellen Corde-Dionne, 76, of Glastonbury, passed away peacefully Saturday February 10, 2018 in the comfort of her home. Mary Ellen was born on October 13, 1941 and raised in Brooklyn, NY (Bensonhurst), daughter of the late Walter and Helen (Connell) Corde. Mary Ellen had lived in Glastonbury since 1976.
Prior to her retirement Mary Ellen was a Registered Nurse at Hartford Hospital for over 30 years. After having four children, Mary Ellen went back to school and received her BSN from the University of Connecticut.
Mary Ellen enjoyed singing and theater. ME had been much involved in the YSB of Glastonbury (now the Youth and Family Services) theatrical summer musical productions at several different levels from performing on stage, building and painting the sets and being a "stage mom" to help back stage.
Mary Ellen had been honored by the State Legislature and the Veterans of Korea/Vietnam/Saudi Wars for the help she had given to Vietnam veterans. Mary Ellen was the founder and president of the Packages For Combat Club (PFC Club), which had sent out much needed packages to soldiers in the field and made sure to always greet returning veterans with a "Welcome Home."
Mary Ellen was a loving person and will be dearly missed by all who knew her.
Mary Ellen is survived by her 4 children and their spouses, Daniel Lloyd Dionne, Jr. of Glastonbury, John and Marie Dionne of France, Peter Daniel and Rebbeca Dionne of Andover, NJ, Debra Lynn and Aaron Dalton of Marlborough, a brother George Corde and his wife Tina of Brick Township, NJ and their children and Mary Ellen's12 grandchildren, Anna Leigh, William, Owen, Ada and Ellis Dionne, Christopher, Alyssa, Marissa and Kayla Dionne, Amanda, Kylie and Cullen Dalton. A memorial service will be celebrated on Saturday March 3 at 10 am in St. Dunstan Church, 1345 Manchester Rd., Glastonbury. Burial will follow in Holy Cross Cemetery. There are no calling hours. In lieu of flowers memorial donations may be made to The Michael J. Fox Foundation for Parkinson's Research. For online condolences please visit www.mulryanfh.com.