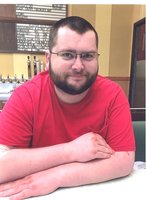 Bernard P. Gullotta "Bernie"
Bernard "Bernie" Gullotta entered this world on October 29th 1983 and became a Gullotta some three weeks later. His parents gave him the Christian name of Bernard but he preferred to be known as Bernie. When the adoption worker lovingly handed him to "the Mamma" and Dad, she passed along the comment that the foster family wanted us to know that he was going to be a handful. Not wishing to disappoint, he was. Bernie was different. He had little interest in his peer group and preferred the company of adults. He adored animals and they returned those feelings, especially cats. He was lucky enough to attend four great caring schools Hebron Avenue, The Talcott Mountain Science Academy, Mooreland Hill, and The Learning Academy where his best hours were spent working on the farm beside Joe. Bern graduated TLC and had the honor of being the Senior Class Speaker. After high school, he attended Quinnebaug Valley Community College taking courses in computer science.
It was then that life took one of those cruel twists. His heart began to fail. You can take an event like that two ways. You can give up or go on. Bernie chose to go on. In the years that followed, he experienced love if only fleetingly, lived independently for a time, and developed friendships with people not unlike himself. Oh, and Bernie had two very special cats – Lester and Patchy. Our son died Sunday, February 25th with his large loving extended family around him. His life will go on in the memories of "the Momma" and Dad and in those he cared for and cared for him. It will go on in the body organs he wanted donated to give another person a second chance at life. In that senior class address, Bernie observed that, "Success is not the key to happiness. Happiness is the key to success," and then added off script that he did not understand why the world was such a troubled place but thought that we could find peace if only we tried harder and we could start by caring for something weaker than ourselves like a cat. Bernie leaves his parents Tom and Chris Gullotta, his virtual sister, Jennifer Messina, and virtual brother Julio Howe, His aunts and uncles Bernie "BJ" Gullotta, Joe and Marjorie Spagna, Andy and Heidi Shepherd, Ted and Katie Nuro, and his beloved cousins Kris, Jennifer and Joey Kaminski, Matt, Jill, Mathew and Miles LeFebvre, and Toby and Jacob Fishel. Words cannot express the depth of the appreciation and love we feel for Dr. Jeffrey Walden who has travelled this heartbreaking 13 year journey with us, the entire Hartford Hospital Transplant Team, the Palliative Care Staff and the critical care nursing staff at Hartford Hospital. We will never forget you and the heroic efforts you made on our son's behalf. Friends may call at the Mulryan Funeral Home, 725 Hebron Ave., Glastonbury on Wednesday February 28 from 4-7pm. A celebration of Bernie's life will be held on Thursday March 1 at 1:00pm in the Congregational Church of South Glastonbury(corner of Main and High Sts).Burial will be private. In lieu of flowers we ask that you register as an organ donor and consider a donation in his name to the B. P. Learned Mission in care of Child and Family Agency, 255 Hempstead Street, New London, CT. For online condolences please visit www.mulryanfh.com.