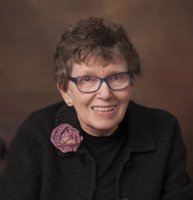 Judith Ann English
Judith "Judy" (Roscoe) English, 79, of Glastonbury, passed away November 23 in her home after a courageous battle with Parkinson's Disease.

Judy was born in Door County, WI, the daughter of the late Joseph and Gladys Roscoe. She made her home in a number of places, including; Brownsville TX, the Canal Zone of Panama, Reno, NV, Ft. Lauderdale, FL and for the last 14 years, Glastonbury, CT. Judy was a proud and active member of the Congregational Church in South Glastonbury. She will be remembered as "the craft lady" and "the world's greatest mom." She always loved a game of Scrabble, winning against friends and family, even if it took a couple of made-up words. Her granddaughters referred to her as "Grandma Google", since she always knew the answer to fun facts discussed at the dinner table without consulting Google. Through her 25 year battle with Parkinson's, Judy rarely complained, and kept up her positive and kind attitude while adapting to her condition as it progressed.
Judy retired from the Broward County School system in Florida where she worked in a variety of roles from office manager at a middle school to administrative assistant for the regional science department.
She will be missed deeply by her three daughters, Laura and Michael Perry of Glastonbury, Lisa and Jeffrey Leggett of GA, Linda English of OR, her sister, Kathy Ehmig of SC, her granddaughters, Erin and Shawn Perry, and Aunt Mary Perry. She was preceded in death by her sister Carol Boe.
Her family would like to express their sincere thanks to the staff of Clark House, Utopia, Masonicare, and Aging Care for their loving care and support. The people who helped Judy quickly became her friends.

A service in honor of her life will be held on Friday, Nov 30th, 2018, 3:00 pm, at the Congregational Church in South Glastonbury, 949 Main Street, Glastonbury. In lieu of flowers, the family kindly requests donations be made in her honor to the Congregational Church in South Glastonbury, PO Box 187, S Glastonbury CT 06073 or go to: https://southcongregational.org/