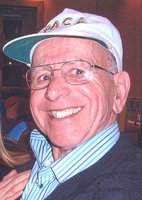 Joseph D. Perri
Joseph D. Perri, 87, of Glastonbury, passed away on Tuesday at Hartford Hospital. He was the widower of Maria (Sousa) Perri.
Born in Westerly, RI, he was the son of the late Joseph Pereira and Maria Jose Braz. Joseph worked as Custodian for the Glastonbury School System for many years, retiring in 1996. He was a member of the St. Paul Church Men's Club, the Portuguese Club of Hartford and an avid NY Yankees fan.
Joseph is survived by his son and daughter-in-law David and Jennifer Rossi Perri of Glastonbury, his daughter and son-in-law Diane and Ronald Vazquez of Glastonbury, his grandchildren Rachel Vazquez, Kristen Kalogeros and her husband Nick, and Adam Perri, his great grandson Lucas Kalogeros, brothers-in-law and sisters-in-law, and several nieces and nephews.
A Mass of Christian Burial will be celebrated on Friday, Dec. 7, 2018 at 10:00 am at St. Paul Church, 2577 Main St., Glastonbury (Please meet directly at Church). Burial will be in Holy Cross Cemetery. Family and friends may call on Thursday from 4:00 pm to 7:00 pm at the Mulryan Funeral Home, 725 Hebron Ave., Glastonbury.