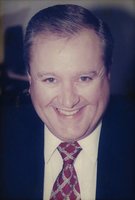 John C. Reuber
John C. Reuber, age 74, of Glastonbury, CT lost his battle with cholangiocarcinoma on January 27, 2021 passing peacefully in his sleep with his wife and children by his side.
Son of Angeline (Fuschiello) and John Casper Reuber, he was born on January 25, 1947 and leaves to mourn his passing his Wife Linda Reuber, Daughter Krista Timken and Grandson Grayson Timken, Son, John Craig Reuber and Grandson John Carter Reuber, Father-in-Law John Pott, along with many loved cousins and close friends. He was predeceased by his parents, maternal aunts, uncles, great friends and cousins, Richard Palowski, John Arcari, Jr., Joseph Gentile and Judy (Palowski) Sophias.
John was a self-made man, going to college at CCSU part time for nine years while raising his young family and working full time. Upon receiving his diploma and then becoming a CPA, he partnered with Mark A. Sheptoff and together they formed Sheptoff, Reuber & Co. His clients became his friends when they learned he cared about the people and their companies, not just the numbers.
John also made time for fishing and hunting, serving as Treasurer and later as President for the East Glastonbury Fish & Game Club.
John and Linda were blessed to have had 52 years together, traveling the world sightseeing, fishing, adventuring and spending winters as snowbirds in Naples, FL. A people person, he enjoyed cooking amazing meals for his friends and family. Any excuse and he would create a party. He worked hard and played hard after putting himself, wife and children through college and he enjoyed living his life.
Thanks to Drs. Herlands, Scheiner, Nestler, Boyd and Hong, who worked tireless in helping John diagnose and manage his disease. They let John do it on his terms. He loved, was loved and will be missed dearly by all who knew him.
Due to the extreme cold temperatures and respect for COVID precautions funeral and burial will be private. In lieu of flowers, please make a donation to Connecticut Children's Medical Center Foundation, Attn: Memorial Gifts, PO Box 412901, Boston, MA 02241-2901. Please include John's name in the memo line. A Celebration of Life in John's honor will be held at a later date. For online condolences please visit www.mulryanfh.com.