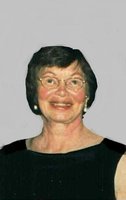 Georgina (Georgie) L. Mickevicz
Georgina Lexina (Fraser) Mickevicz, age 82, of Glastonbury, CT passed away on Wednesday, February 10, 2021 at home.
Georgina (Georgie) was born in New Glasgow, Nova Scotia, Canada on June 7, 1932, daughter of the late John A. A. Fraser and Margaret A. Fraser of Hopewell, Nova Scotia. Educated in Nova Scotia, a graduate of the Maritime Business College, New Glasgow, she worked as a secretary to the Town Clerk of New Glasgow, N.S.
Georgie moved to Worcester, MA working for Phalo Plastics Corp., where she met the love of her life, Edward W. Mickevicz. They married in Sept. 1955 and moved to Willimantic, CT. She was employed in the Purchasing Dept. of Electric Motive Mfg. In 1960 they moved to Massachusetts, where she worked in Purchasing for Digital Equipment Corp., Maynard, MA. Her husband's job took them to California where their daughter Karen Anne was born in Torrance, CA. Karen Anne (Mickevicz) Douglass predeceased her on Feb. 14, 2006.
Georgie accompanied Ed to Glenrothes, Scotland, U.K. where he was Managing Director of Brand Rex Ltd. for 10 years. During this time they enjoyed extensive travels in the United Kingdom, Poland, Russia, Egypt, Europe, Asia, Africa, India, Kashmir, Nepal and Australia. Both loved the excitement and adventure of traveling. Upon returning to Connecticut, she and Ed travelled to various parts of Canada and across the U.S.A., stopping to visit the National Parks, relatives and friends in Arizona and California.
For over 20 years Georgie was a volunteer at the Second Chance Shop for the Village of Families and Children in Glastonbury, which she enjoyed immensely.
Georgie is survived by her husband, Edward, her brother Hoyt Fraser and his wife Elsa, her sister Olive and her husband Winston Harakas, both of Hamilton, Ontario, Canada, and her sister Lalia Long, of Hopewell, Nova Scotia, Canada, plus several nieces and nephews as well as cousins in Massachusetts, North Carolina and California. She is also survived by her only grandson, Tyler Dawson Douglass of Cave Creek, Arizona, and her son-in-law James Douglass. Her brothers, F. Rowland Fraser, J. Abbott Fraser of Hamilton, Ontario and J. Vincent Fraser of Island East River, Nova Scotia predeceased her. She is survived by sisters-in-law Deborah Fraser and Cathy Fraser. A private funeral will be held at St. John Cemetery, Worcester, MA at the convenience of the family. In lieu of flowers, donations may be made to the American Cancer Society. For online condolences please visit www.mulryanfh.com.