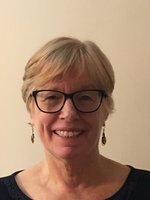 Linda Cohan
On Thursday, February 11, 2021, Linda Cohan, beloved wife, mother, daughter, and dear friend, passed away at the age of 70 from cancer.
Linda was born on September 2, 1950 in New York City to Alfred and Mildred Podnek. She grew up as the middle child between her two brothers, Ken and Rick. Linda earned her BA in History and Asian Studies at Connecticut College and later her MBA at UCONN. While at Connecticut College, she met the love of her life, Mark, to whom she was married for 50 years. Throughout her many career successes and volunteer endeavors, she remained a steady, loving, and present figure to her two children, Andrew and Allison. Linda was always surrounded by beloved friends whom she collected throughout various walks of life due to her natural ease, grace, dedication, and understated magnetism.
Those who knew Linda best will remember her fondly for her attentive listening, loyalty, wisdom, and humor. Linda's passions were simple but deep. She would look forward to the annual library book sale with about as much anticipation as she would an international trip. She and Mark were able to take advantage of their shared retirement years traveling to Thailand, Morocco, and lastly, Japan, which had been a lifelong dream of hers. Her comparable enthusiasm for things both big and small was one of her consistent charms. Later in life, she decided to learn how to play the ukulele and joined the Glastonbury Ukulele Band. While she was a traditionalist at heart, her love of learning kept her ever in pursuit of new experiences. Linda had a dedicated and longstanding love of New England. She rejoiced in everything from admiring the fall colors and picking apples in the orchards, to the local history and the architecture. Linda's love of Glastonbury really shined around the holiday season. Every year, she made it a point to drive down Main Street as often as she could just to admire the lights in all of the historical homes. Her earnest enthusiasm was contagious in the best of ways.
Linda will be joyfully remembered by loved ones in all seasons. She will be present when they go for a long walk on a New England beach in the summer and stop for a fresh seafood dinner on the way home. She will be with them when they feel the crunch of fall foliage beneath their feet as they pause to read a historical plaque. She will be by their side when they curl up in a favorite cozy chair underneath a warm blanket, with a beloved pet nearby and snow on the ground outside. She will be near when hyacinth season rolls around in the spring and irises make their long-awaited appearance. Linda's love of life's simple pleasures is a legacy we can all be grateful to inherit. Fittingly, her farewell advice to her children was to make the most of life by spending each day appreciating the small moments and connections with friends and family.
In lieu of flowers, please send along fond memories to her surviving family and friends. Any charitable donations can be given in her name to Planned Parenthood.
Memorial services remain to be determined and will be announced at a future date.