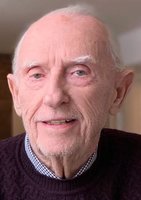 John R. Abraham, Jr.
John Richard Abraham Jr., aged 92, passed away on February 13, 2021 peacefully at his Glastonbury home of nearly 60 years. Surrounded by his family his life ended as he lived it, in great dignity and grace. Born on June 14, 1928 in Hartford Connecticut to Margaret and John Abraham, Sr.
John leaves his beloved wife of sixty-eight years, Barbara (Couch), his brother Tom (Doris), his son Rick (Heni), daughters Betsy (Paul), Sarah, Jenifer (Alan) and his devoted grandchildren, Ian (Alison), Alina (Ko), Jena (Shane), Geoff (Morgan), Ted (Erica), Alex (Amy), Zoe, Ethan, Adam, Drew, Sally, and Aliza, six great grandchildren and nieces and nephews.
He was a long-standing communicant of Saint James Episcopal Church in Glastonbury. He went to Wethersfield High School and graduated with a Bachelor of Sciences degree from the University of Hartford. A member of the Institute of Management Accountants for nearly sixty years. A man of great principle he prided himself upon having been an Eagle Scout. He was an avid sailor throughout his life, and an Outdoorsman who appreciated nature. He was well-read and well informed. A very kind and thoughtful man he took great interest in others and loved the company of his extended family and friends.
John and Barbara were married for sixty-eight years, reveling in their large family and many adventures. Together they traveled over the years. They particularly loved Europe but always had a special love for the New England seashore. John's legacy of integrity, vitality and compassion and his love of tradition will always be cherished.
Due to the Pandemic services will be postponed.