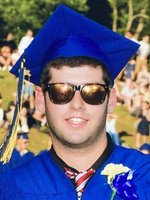 Benjamin A. Sarkis
Benjamin Arthur Sarkis, 19, of Marlborough, CT died Saturday, March 13, 2021, in Plymouth, NH. Ben was the beloved son of Michelle (Karlin) and Jon Sarkis, and best friend and brother to Matt Sarkis. He was deeply loved by his father, mother and brother, and will be dearly missed.
Ben was a 2019 graduate of RHAM High School in Hebron, CT and was attending Plymouth State University. He was a Dean's List student, studying English. Ben was described by friends as sweet, kind and genuine. He had compassion for animals, especially his dog and "good buddy" Rudy. Additionally, Ben loved the outdoors and vacationing with family in Maine, New Hampshire, Vermont and Lake George. He will be remembered for his sense of humor, gentle soul and creativity.
Ben was cherished by his family and friends and will be missed by all who knew him. Besides his parents and brother, he is survived by his grandparents, Adrienne Cohen of Stoughton, MA, Robert and Diana Karlin of Los Angeles, CA, Jerry and Faye Cohen of Sharon, MA and Shirley Sarkis of Glastonbury, CT, his aunts and uncles Adam and Heather Karlin, Jeffrey and Erica Cohen, Nicole Cohen and Dave Fisher, Charles and Lynn Sarkis and Saadia "Betsy" Sarkis, his cousins Ella and Theo Karlin, Emma and Ryan Cunningham, Gabrielle and Levi Cohen, and many relatives and friends. He was predeceased by his loving great-grandmother Dorothy Karlin.
At the family's request, Ben's burial will be private. A celebration of his life will be held at a later date, when COVID restrictions are lifted. In lieu of flowers, contributions in Ben's memory can be made to Mental Health Connecticut (MHC), 61 South Main Street, Suite 100, West Hartford, CT 06107, or the Connecticut Humane Society, 701 Russell Road, Newington, CT 06111