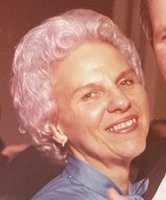 Gladys Dubicki
Gladys Varni Dubicki died peacefully in her sleep on June 4. She was born at her family home on Belltown Hill Rd. on July 8, 1927 to Anthony and Teresa (Malaspina) Varni.
Gladys lived nearby with her husband, John J. Dubicki, until his sudden death in 1987. They had no children. She enjoyed gardening and maintained a show house landscape at their home. She traveled extensively. Gladys loved picking blueberries and strawberries which she did until last year. During her life, Gladys worked at the Underwood, JT Slocumb, Belltown Hill Orchards and at the Citizen, finally retiring at the age of 88.
She is survived by her sister, Joyce Varni Teraila, Joyce's daughters Karen Teraila Connelly and Linda Teraila Fabri and numerous nieces, nephews and their children. Gladys was predeceased by her 3 brothers Robert Varni, John Varni and Steven Varni.
An active, lifelong parishioner of Ss. Isidore and Maria Parish at St. Augustine Church, 55 Hopewell Rd., South Glastonbury, Gladys' Mass of Christian Burial will be celebrated there on Tuesday, June 15, 2021 at 11:00 AM. Burial will be in St. Augustine Cemetery, South Glastonbury. Friends may call on Monday, June 14, 2021 from 4:00 pm to 6:00 pm at Mulryan Funeral Home, 725 Hebron Ave., Glastonbury.