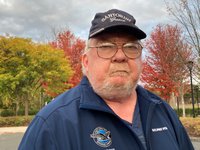 Martin R. Bretschneider
Martin 'Marty' Bretschneider, 64, of Glastonbury, Connecticut passed away at Hartford Hospital, Monday June 28, 2021 after a brief illness.
Marty was born on November 7, 1956 at Hartford Hospital to Dorothy and Joseph Bretschneider. He was a graduate of Glastonbury High School and was a life-long resident of Glastonbury. He was extremely proud of his 45 year career with Pratt & Whitney and enjoyed sharing memories and pictures from this with his family and friends. Marty retired in June of 2020 and was looking forward to spending his free time in Florida, by the beach, where he loved it the most. During his free time, Marty enjoyed long walks on the beach and throughout his hometown. He also loved eating at his favorite restaurant, The Ninety Nine. Marty was a man of few words, he had a contagious laugh, and he deeply loved and was loved by all of his family and friends.
Marty is survived by his two sisters, Nancy Larson and Sheila Fleming, Sheila's husband Joseph Fleming and their two daughters, Ashley and Emily Cassello. He is also survived by his very dear friend, Mary, her daughters, Patty and Tina, along with their children. He is also survived by his nieces Stacey and Krissy. Marty is predeceased by his mother, father, his brother Joey, and his sister Joanie.
Marty's quiet and caring nature will be missed dearly by all that knew him.
Funeral Service will be Friday, July 2, 2021 at 9:00 am at the Mulryan Funeral Home, 725 Hebron Ave., Glastonbury. Burial will follow in Green Cemetery, Glastonbury. Family and friends may call at the funeral home on Thursday, July 1, from 5-7 pm.