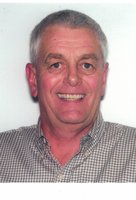 James T. McGee
James "Fibber" McGee, 67, of Glastonbury passed away peacefully on Saturday, July 10th. Anyone who knew Jim, knew he was a talker, so don't be surprised if we ramble a bit…
Jim was born in Manchester on November 2, 1953 to James and Marcella (Holloran) McGee. As an only child, he developed an incredibly close bond with his mother (our Baba) after losing his father at age 15. Through most of his adult life he would call or visit Baba every day.
Jim graduated from Manchester High School in 1971 where he excelled in many sports, including soccer, baseball, and basketball. He then spent a few years traveling the country eventually returning home where he began a 36-year career in education starting at Assumption Middle School then moving to RHAM Middle School. As a teacher he was known for creating original (and often funny) hands-on lesson plans for his students including music videos, raps, poetry, and games. He made the school environment better through his upbeat, kind, and helpful nature.
A true sports enthusiast, Jim coached both boys and girls in soccer and basketball, including his daughter's teams. The players respect and admiration was evident when he was presented with a plaque that read "To Coach McGee – Always late and a little confused".
Jim loved music, movies, dogs, the beach (and more dogs). He was extremely active, obsessively talking about his latest workout regimen. He completed 7 marathons, a number of which were accompanied by RHAM students raising money for charity. He spent every spare moment hitting golf balls whether in the backyard, on the putting green, or on the course with his multitude of golf buddies.
He never truly gave up teaching and worked daily to continue creating original material for use by others. One of his proudest achievements was publishing two wildly witty and informative epic poems – Dr. Zeus: The Iliad Idioms and Dr. Zeus: Ulysses' Most Very Excellent Odyssey.
Above all else, he adored his family and friends. Marcia, Lindsay, Michaela, and Buddy were the loves of his life and he got to spend 33 years surrounded by love and laughter. Thus, so did we -- along with his endless and purposeful annoyances.
Through his extended family Jim was able to have the close sibling relationships that he never had growing up. His brother-in-law Lewis became one of his best friends and he rooted for his three nephews in all their endeavors.
His friends would say Jim was a good, always-there-for-you guy who loved life. He will be deeply missed.
Funeral service will be Friday July 16 at 11am in the Mulryan Funeral Home, 725 Hebron Ave., Glastonbury. Burial will follow in St. Bridget Cemetery, Manchester. Friends may call at the funeral home Thursday July 15 from 4-7pm. Please dress casual. In lieu of flowers memorial donations may be made to The CT. Children's Medical Center Foundation, 282 Washington St., Hartford, CT. 06106 or to the CT. Humane Society, 701 Russell Rd., Newington, CT. 06111.