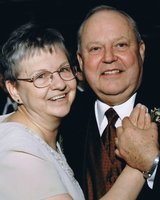 Richard R. Snyder
Richard R. Snyder, 78, of Northfield and Elaine A. (Perras) Snyder, 77, both passed away peacefully at St. Mary Hospital, Waterbury. Richard died on July 24, 2021 and was predeceased by Elaine who died on January 1, 2021.
Richard was born in Rimersburg, PA to the late Hugh and Anna (Flick) Snyder. Elaine was born in East Hartford to the late William R. and Beatrice (Feltault) Perras. They were former residents of Burlington and longtime residents of Glastonbury, moving to Northfield five years ago. Richard was a veteran of the U.S. Army and worked as a welder/steamfitter for many years with membership in Local 777. Elaine worked for the State of Connecticut, Department of Education in the payroll department of many years. They were members of Ss. Isidore and Maria Parish at St. Paul Church, Glastonbury.
Surviving are their daughter Lisa A. (Snyder)Fearon and her husband Charles of Northfield, their son-in-law Jonathan O'Brien, their grandchildren Chailyn and Mason Fearon and Juan O'Brien. Richard and Elaine were predeceased by their daughter Theresa (Snyder) O'Brien.
A Mass of Christian Burial will be celebrated on Saturday, August 14, 2021 at 9:30 am at Ss. Isidore and Maria Parish at St. Paul Church, 2577 Main St., Glastonbury. Burial will be in Holy Cross Cemetery. Family and friends may call on Friday, August 13, 2021 from 5:00 pm to 7:00 pm at Mulryan Funeral Home, 725 Hebron Ave., Glastonbury.