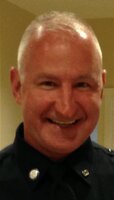 Francis C. "Chris" Perrone
Francis Christopher Perrone ("Chris"), of Glastonbury, passed away unexpectedly, but peacefully, on August 29, 2021, just days after his 54th birthday.
Chris was born in Hartford and grew up in East Hartford and Avon, graduating from Avon High School. After college at University of Maine, Chris lived in Hartford until settling in Glastonbury in 2007. Chris loved Glastonbury and considered it his home.
Chris began his career with the Hartford Police in 1993, ultimately joining the Emergency Response Team (SWAT) at the rank of Sergeant, second in command. Chris executed the city's most dangerous search warrants with laser precision and confidence. The first one "through the door," Chris was the consummate professional and an unstoppable force. There always was and always will be only one "Bones".

Retiring from Hartford and SWAT in 2013, Chris joined the Glastonbury Police. Immediately beloved, he relished the warmth of community policing. He enjoyed the opportunity to see friends among the passersby when working a road job, and diving into his pool (in full uniform!) at the end of a long shift in the hot sun.
Chris was an avid hockey fan and cherished the time spent with his son, Max, playing street hockey together, driving to endless practices and games, and talking all things Bruins. Evenings spent watching the games on TV, with the whole family in Bruins gear, were where Chris was his happiest. He took pride and comfort in the small things, like Starbucks every morning for his wife of 13 years, Terri (Hartley), and ice cream runs with his two children, Max (12) and Brooke (11). Often Brooke would accompany her dad on errands around town, and he was simply thrilled just to spend time with her. Chris beamed with pride when anyone spoke of his family and would do anything for them. He never said no, regardless of lack of sleep and long hours; Chris loved his dog, Bella, and all animals. He worked tirelessly to be a wonderful provider, father and husband; completely devoted. He was the most hard-working man you could find, and generous beyond words to his family. Chris had the love and unequivocal support of his wife and children through thick and thin. Whatever the road brought; the four of them were a team with an unbreakable bond that will live on forever.
In addition to his wife of 13 years and children, Chris leaves behind his loving parents, Frank and Carol (Chrapowitzky) Perrone, and a sister, Lisa Perrone, and her husband, Tony, all of Vernon, as well as numerous aunts, uncles and cousins. Chris also leaves behind his entire in-law family of mother, brothers, sisters, nieces and nephews, all of whom will miss him dearly. He was there in an instant whenever one of them needed him, sincerely happy to help. He would often ask, unprompted, if his mother-in-law in Springfield was doing okay, and what he could do to help her. He will always have his place at the Thanksgiving table, the Christmas buffet, and the Easter celebration.
Calling hours will be Friday, Sept. 3 from 4-7pm in Ss. Isidore and Maria Parish at St. Paul Church, 2577 Main St., Glastonbury. Burial will be in Holy Cross Cemetery, Glastonbury. We ask that all guests wear masks both indoors and outdoors and maintain social distance as best as possible. The Funeral Mass will be private due to Covid, but the livestream will be available by visiting the parish website at www.isidoreandmaria.org at 10:00 am on Saturday, Sept. 4. Those who wish to participate in the procession to the cemetery should meet in the parking lot of the church at 10:45 am on Saturday. In lieu of flowers, a donation to the Go Fund Me page established for Max and Brooke Perrone would be greatly appreciated. For online condolences please visit www.mulryanfh.com.