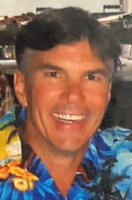 John B. Cabral
John B. Cabral, 68, of Glastonbury, died Monday September 20, 2021 at home of cancer. Born October 7, 1952 in Hartford, son of the late John S. and Evelyn (Coiro) Cabral, he had lived in Glastonbury for the past 37 years.
John was an electrical and mechanical engineer and retired from careers at both Pfizer and Electric Boat in Groton and served in the US Navy on the Tullibee but his greatest pride was his three children, Stephanie, Mike, and Donn. He was actively involved in their various activities from coaching their sports teams, taking them on trips, and teaching them to drive the boat.
John and his wife, Deborah Hadaway, made a formidable team and John aptly handled the operations of their many ventures, most notably the tiki bar boat in Mystic where John was frequently seen at the stern donning a lei and dancing to the music with a big smile.
John will be remembered by many as "Coach John", and by his peers for his playful nature and heartfelt laugh. He is survived by his children and their partners: Stephanie Cabral and Stan Gucwa-Bucasas; Michael Cabral and his wife, Stephanie Pouzol, who blessed him with his only grandchild, Corinne Cabral; and Donn Cabral and his fiancee, Vruksha Upadhyay. He's also survived by his beloved niece, nephews, and cousins. He was predeceased by his sister, Marie Van Wart. Services will be at the convenience of the family. For online condolences please visit www.mulryanfh.com