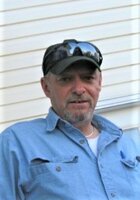 Filmore M. Davis, Jr.
Filmore M Davis Jr. 62 of Glastonbury passed away Oct. 30, 2021 after a brief illness. He was born January 24, 1959 in Rochester NY. He lived most of his life in Glastonbury after graduating Portland High School in 1979.
He was a lifelong carpenter and was a member of Local 43 and 326. He enjoyed hunting, fishing and was an avid Nascar race fan but most of all he loved spending time with his family and friends.
He leaves behind his wife of 42 years Lori Clemens Davis and their 2 daughters, Amanda and her husband Christopher Bisi and Courtny Davis and her Fiancé Guy Gagnon, and his most cherished grandson Caleb Bisi.
Besides his wife and children, he leaves behind his father and his wife Filmore and Brenda Davis Sr. of NC., his brothers and their spouses, John and Karen Davis of Manchester, Steven and Brenda Davis of WV., Christopher and Debi Davis of Oregon and Kevin and Yoriko Davis of Okinawa. His sisters and their spouses Beth and Tom Sweeney of NY and Kimberly and Mark Kobrin of NC and Mary Schwartz of NY and Terry Singleton of FL.
His brother-law and his wife Joseph and Karen Clemens of Marlborough and his sister in-law and her husband Robin and Marc Zimmerman of Newington.
He also leaves behind many Nieces, Nephews and close friends.
He was predeceased by his mother Georgeanna Busseno, his step mother Patricia Davis and his brothers Timothy Davis and Edward Busseno II.
Funeral service will be Friday Nov. 5 at 11am in the Mulryan Funeral Home, 725 Hebron Ave., Glastonbury. Burial will follow in Old Church Cemetery, Glastonbury. Friends may call at the funeral home on Thursday Nov.4 from 5-7pm. In lieu of flowers memorial donations may be made to the American Cancer Society, P.O. Box 22478, Oklahoma City, OK 73123 or at www.cancer.org. For online condolences please visit www.mulryanfh.com.