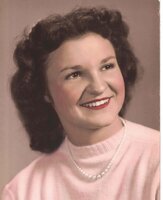 Joyce V. Teraila
Joyce Varni Teraila died peacefully in her sleep on November 2, 2021. She was born at her family home on Belltown Hill Rd. on June 5, 1932 to Anthony and Teresa (Malaspina) Varni.
Joyce lived nearby with her husband Thomas R. Teraila who died on February 6, 2018. Since his departure, Joyce spent time with her daughters Karen Teraila Connelly and Linda Teraila Fabri.
Joyce was very active at St. Augustine's Roman Catholic church. She served as a multiple term President of the Altar Guild, ran events, helped organize numerous fairs, and assisted with church decorations. She led St. Augustine parishioners in the ecumenical World day of Prayer with other area churches. Joyce's lovely soprano voice was part of the choir.
Joyce loved to cook and bake. She baked pies for early Apple Harvest festivals and decorated cakes and cupcakes for many school and other events. She was active volunteering at the polls and at the schools.
Professionally Joyce worked at Hamilton Standard, Longo Turkey Farm and at Glastonbury High School.
Among other activities, Joyce was an avid badminton, miniature golf and card player.
She is survived by daughters Karen Teraila Connelly and Linda Teraila Fabri, their husbands, James Connelly and Kevin Fabri, granddaughters Christina Connelly Demar, her husband Travis, Katelyn Fabri Hawkes, her husband Ricky and Sara Fabri, numerous nieces, nephews, their children and her Sister In Law Betty Varni. Joyce was predeceased by her sister Gladys Dubicki and 3 brothers Robert Varni, John Varni and Steven Varni.
An active, lifelong parishioner of St. Isidore and Maria Parish at St. Augustine Church, 55 Hopewell Rd., South Glastonbury, Joyce's Mass of Christian Burial will be celebrated there on Saturday, November 6, 2021 at 10 AM. Burial will be in St. Augustine Cemetery, South Glastonbury. Friends may call on Friday, November 5, 2021 from 4:00 pm to 6:00 pm at Mulryan Funeral Home, 725 Hebron Ave., Glastonbury. In lieu of flowers memorial donations may be made to The Daily Mass at ORTV, 15 Peach Orchard Rd., Prospect, CT. 06712-1052. For online condolences please visit www.mulryanfh.com.