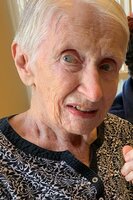 Cynthia Gronbach
Cynthia (Grant) Gronbach, 92, of Windsor Locks and formerly of Glastonbury, passed away on Thursday, November 11, 2021. She was the widow of Robert Charles Gronbach.
Born in Dedham, MA, Cynthia was the daughter of the late Daniel and Delia (Faherty) Grant. She graduated from the Chandler Secretarial School in Boston and worked as a Medical Secretary for many years, before becoming actively involved in training of Weimaraners, with one of her dogs going on to win the 1965 Sporting Group at the Westminster Dog Show. Bob and Garth kept her on her toes. Cynthia was an avid tennis player, loved gardening and looked forward to any opportunity to travel. She was a member of the Audubon Society. Cynthia loved people and was sure to make a new friend out of any stranger right away. She will be remembered for her infectious laugh and fondness for jazz as well as classical music. The family would like to thank Gladys Gyambi.
Surviving is her son Garth Gronbach of Glastonbury, her nieces Lynne Heidelbach and Meredith Janson and her nephews David Heidelbach, Kieran Roy, Sean Roy and Christopher Janson. In addition to her husband, Cynthia was predeceased by her brother Frederick C. Grant and her three sisters Mary Roy, Anne Janson and Evelyn (Heidelbach) King.
Funeral services will be held on Friday, December 3, 2021 at 1:00 pm at Mulryan Funeral Home, 725 Hebron Ave., Glastonbury. Burial will be in Green Cemetery. Friends may call on Friday, December 3, 2021 from 11:00 am to 1:00 pm at the funeral home.