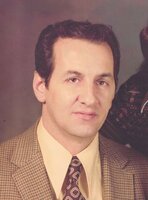 Vincent "Jimmy" D'Aloisio
Vincent "Jimmy" D'Aloisio, 90, of Glastonbury passed away peacefully on Saturday, April 30, 2022.
Born in Hartford, CT, he was the son of the late Venanzio and Elisa (D'Andrea) D'Aloisio. Growing up on Front St., Hartford and after graduating HPHS, Class of 1949, he enlisted in the U.S. Air Force having served in the Korean War. Jimmy attended Porter School of Tool Design and Process Planning, graduating in 1959. He worked as Tool Designer at Pratt and Whitney for thirty-six years, retiring in 1992. He was a communicant at St. Paul Church and a resident of Glastonbury for over fifty years. Jimmy was a life member of the Windsor Marksman Association where he enjoyed competitive target shooting with his brothers. He loved sailing, swimming, the beach and good food. Jimmy was a devoted and loving father to his daughters.
Surviving are his two daughters Colleen D'Aloisio and Kelly D'Aloisio, his sister Mary Betters and many nieces and nephews. Jimmy was predeceased by his brother Elio D'Aloisio and his wife Eda, his brother Nicola D'Aloisio and his wife Shirley, and his brother-in-law Joseph Betters.
A Mass of Christian Burial will be celebrated on Wednesday, May 4, 2022 at 11:00 am at Ss. Isidore and Maria Parish at St. Paul Church, 2577 Main St., Glastonbury. Burial with Military Honors will be in Holy Cross Cemetery, Glastonbury. Friends may call on Wednesday morning from 9:30 am to 10:30 am at Mulryan Funeral Home, 725 Hebron Ave., Glastonbury. For online condolences, please visit www.mulryanfh.com.