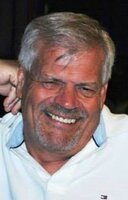 Kenneth Lloyd Thalheimer
Kenneth L. Thalheimer, 72, of Bellmore, NY passed away unexpectedly on Tuesday, July 26, 2022.
Born in Irvington, NJ, he was the son of the late Walter and Elsa (Bonapace) Thalheimer. Kenneth was a veteran of the U.S. Coast Guard. He worked as an airplane mechanic for Delta Airlines at LaGuardia Airport in NY for many years, and had a great love and knowledge of aircraft and aviation.
He was a talented and avid photographer, who loved sharing his beautiful view of the world with others. He also loved the beach, where he spent many a day watching seagulls and reading Dean Koontz or Stephen King novels alongside the ocean waves.
All who knew him will miss his sarcastic, dry sense of humor, which brought endless laughs and joy to anyone he encountered.
Most of all, his bright light of hope, inspiration and caring for others will be missed but never forgotten.
He was greatly loved by many, a wonderful father, friend and loving Paw-paw.
Surviving are his daughter Lauren Lawrence and her husband Ryan and his grandson Liam Lawrence, all of Glastonbury, CT.
Funeral services will be held on Sunday, August 7, 2022 at 2:00 pm at Mulryan Funeral Home, 725 Hebron Ave., Glastonbury, CT 06033. Burial will be private. Friends may call on Sunday, August 7, 2022 from 1:00 pm to 2:00 pm at the funeral home. There will be a reception to follow, details to come. In lieu of flowers, memorial donations may be made to Boys Town (https://support.boystown.org/ or DAV (Disabled American Veterans)(https://www.dav.org/). For online condolences, please visit www.mulryanfh.com.